Audio Streaming Latency, Interruptions or Buffering
Why Audio Streaming Latency?
Audio Streaming Latency exists on any radio stations (terrestrial), or tv station has a delay. What you listen to on your radio is close to real-time but is not real-time has a delay. It all depends on the time the signal takes to send the audio and the time it takes to get to your car by air.
Online the delay is similar; the signal has to come from your computer and go through your internet service provider, etc., if you live in another country, pass by sea, get to our internet provider, get to our servers, and then all the process happen again at inverse when a listener make the connection to our servers. Between all these processes, the signal has to go through different speed connections. It is expected to experience an average delay of 5 to 30 seconds, depending on the previous conditions already mentioned.
The only real-time you are gonna find if you talk directly to a person.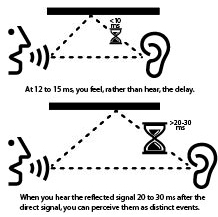 Here is a visual example of a real-world live streaming test.
But what can I do?
You can increase your buffer time; try this.
To increase the buffer size in Windows Media Player:
Open Windows Media Player.
Press "Alt", "T" and then "O" to access the Options menu.
When the "Options" multi-tabbed dialog box appears, select the "Performance" tab.
Underneath "Network buffering," click the "Buffer" radio button.
Next to this radio button, enter your desired number of seconds. Windows Media Player 11 will buffer files before playback (60 is the maximum).
Click "OK" to close the "Options" dialog box.
To increase the buffer size in Winamp:
Open Winamp.
Press "Ctrl", "P" this will open Winamp Preferences
Under Plug-ins, select "input"
Select "Nullsoft Mpeg audio decoder"
Click "Configure" Button
under the "General" tab, you will see "Full File Buffering".
Adjust the size of the buffer and click "OK"
To learn more about Audio Streaming Latency, see The Truth About Digital Audio Latency.